Singapore

【Singapore】8% off at Sheng Siong Supermarkets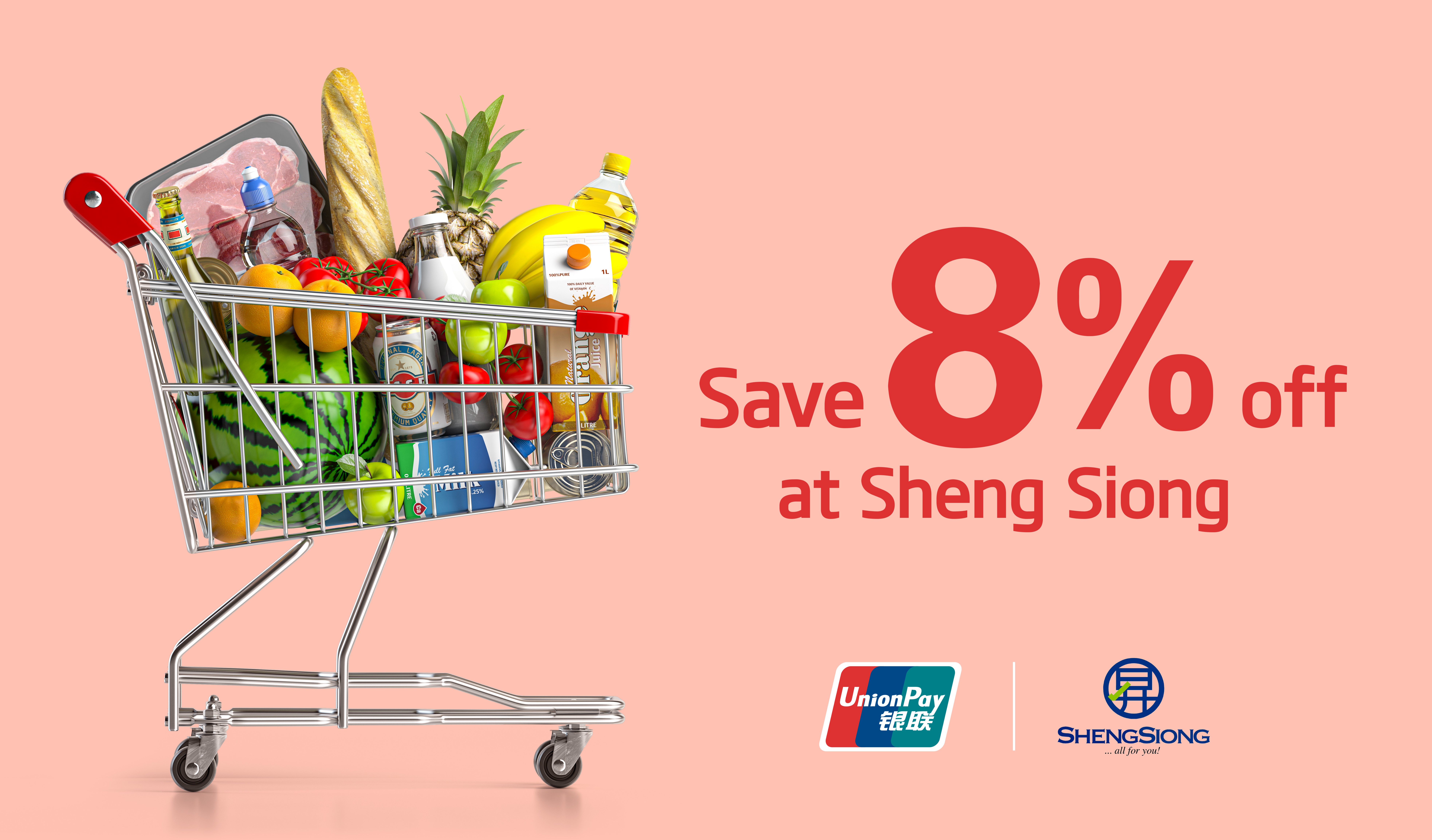 Web:https://marketing.unionpayintl.com/offer-promote/?language=zh&insCode=900520156#/offer?offerNo=221222106083
Merchant Type:

Shopping

Merchant Description (provided by the merchant):

From our humble roots starting as a small provision shop in Ang Mo Kio,

Sheng Siong has grown to become one of Singapore's largest retailers

with over 60 stores island-wide today. Our chain stores are designed to

provide customers with both "wet and dry" shopping options ranging

from a wide assortment of live, fresh and chilled produce, such as

seafood, meat, fruits and vegetables to packaged, processed, frozen

and/or preserved food products as well as general merchandise, including

toiletries and essential household products.

Our long history and reputation for quality products at competitive prices

have led our "Sheng Siong" brand to become an established household

name in Singapore. Widely recognised by consumers, we have been

awarded the "Superbrand" status by Superbrands Singapore since 2008.

Duration:

2022-12-28 To 2023-06-15

Preferential range:

All UnionPay Cards (Card Number starting with 62 or 81)

Activity content:

How to get 8% off at Sheng Siong Supermarkets & save up to S$192:

1. Complete a one-time registration of your UnionPay Card at https://bit.ly/UPI8OFFSS

2. Charge at least S$50 nett with your registered UnionPay Card at any Sheng Siong stores

3. Get 8% off your purchase (Capped at $8 per redemption, 1 redemption a day and total 24 redemptions during promotion period)




Activity Rules:

1. Complete a one-time registration of your UnionPay Card (card number starting with 62 or 81) at https://bit.ly/UPI8OFFSS

2. Enjoy 8% off (capped at S$8 per redemption) when you charge at least S$50 nett in a single transaction on your registered card at any Sheng Siong Supermarket outlets from 6 January till 15 June 2023.

3. Limited to 1 redemption a day per cardmember and a total maximum of 24 redemptions during the promotion period.

4. Please note that charge slip will reflect the original transaction amount, but you will be notified of the discount you have enjoyed via SMS sent to your registered mobile number shortly after the transaction has been approved. The transaction amount after discount will be reflected in your bank statement.

5. Promotion discounts are awarded on a first-come, first-serve, while stocks last basis.

6. UnionPay International reserves the right to amend or withdraw the promotion without prior notice.




Exception Clause:

1. The terms and conditions of the promotion is applicable to the merchant. Details can be consulted from customer service staff. 2. UnionPay International is neither vendors nor service providers, thus UnionPay International is not responsible for the products or services provided by the merchant. Any obligations and liabilities relating to such products or services and all auxiliary services shall be borne by the merchant. 3. Merchants and/or offer may be affected by COVID-19. Details shall be subject to the announcement of the merchant. 4.The design, text, images and links contained in this page shall only be used, permitted by UnionPay International, for the purpose of promoting the corresponding activities of UnionPay International. After the end of the promotion, the link and other related content will be invalid. If used, please delete it immediately. Unionpay International shall not be liable for the consequences or damages incurred as a result of any failure to delete it in time or unreasonable use.