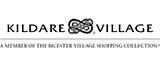 Kildare Village
Enjoy Exclusive 10% off E-VIP with UnionPay Card at Kildare Village
Duration: -

Promotion Code:

Merchant Link:
Duration

From October 22, 2020 to December 31, 2022

Scope

All UnionPay Cards (card number starting with 62)

Content

Enjoy Exclusive 10% off E-VIP with UnionPay Card at Kildare Village

Activity Rules

1. Applicable to UnionPay Cards.
2. Exclusive E-VIP card will be valid within 24 hours after first use.