Nets, the largest acquirer in Northern Europe, accepts UnionPay cards
UnionPay merchant acceptance rate in Finland is about to reach 70%
2019-09-20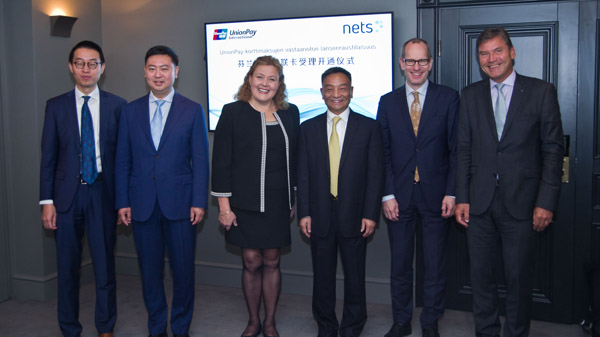 Shi Wenchao (3rd right), President of China UnionPay and Sirpa Nordlund (3rd left), Senior Vice President of Nets attended the opening ceremony in Helsinki. Chen Li (2nd left), the Chinese Ambassador to Finland, and Paavo Virkkunen (1st right), Executive Director of Visitfinland were also present

UnionPay International announced today that it has collaborated with Nets, the largest acquirer in Northern Europe, to enable all Nets' merchants in Finland to accept UnionPay cards. With this collaboration, the UnionPay merchant acceptance rate in Finland will reach 70%. Shi Wenchao, President of China UnionPay and Sirpa Nordlund, Senior Vice President of Nets attended the opening ceremony in Helsinki. Chen Li, the Chinese Ambassador to Finland, and Paavo Virkkunen, Executive Director of Visitfinland were also present.
With Europe becoming the second largest tourism destination for Chinese tourists, an increasing number of Chinese travelers are visiting North Europe. During the first 8 months of 2019, about 150,000 Chinese tourists visitied Finland. The local government also plans to build Finland into the hub for Chinese tourists visiting Northern Europe. So far, more than 15,000 merchants in Finland have accepted UnionPay cards, and the majority of them are tourism-related merchants. Helsinki Airport, for instance, is one of the first airports in Europe that have started accepting UnionPay. Now, the official website of Finnair also accepts UnionPay cards for online booking of flight tickets. 
Shi Wenchao said, Europe is a key region in UnionPay's internationalization. In recent years, UnionPay cardholders visiting Europe are traveling to more destinations and spending in diverse sectors. In answer to this, UnionPay has spared no efforts in the improvement of its acceptance in Europe to enhance its service capacity. Based on its expanding acceptance, UnionPay will further accelerate the localization of its business in Europe and bring more card products as well as innovative products to local consumers.
Sirpa Nordlund said, UnionPay is the world's largest payment brand in terms of card issuance and UnionPay card is the preferred payment method of tourists from Aisa Pacific. The cooperation with UnionPay is in line with the development goal of Finland's tourism and will further enhance the service capacity of local merchants while bringing better payment experience to international tourists.
Currently, UnionPay is accepted in 90% of European countries and regions with an overall regional acceptance rate up to 65%. In Northern Europe, over 150,000 merchants in Denmark, Sweden, Finland, Norway and Iceland now accept UnionPay cards. UnionPay's acceptance rate in Denmark has exceeded 90%, and over 50% of merchants in Sweden accept UnionPay.