UnionPay Cards Now Supported by over 27 Million Merchants and 1.1 Million ATMs in the Chinese Mainland
Cash withdrawal using UnionPay cards is supported by all ATMs in the Chinese Mainland. The service is available in any bank or 24-hour self-service banking outlet including those at land ports of entry, airports, railway stations etc.

UnionPay cardholders can enjoy safe and convenient payment services at a wide range of merchant locations for multiple use cases such as public transit, hotels and schools by paying with UnionPay cards, mobile QuickPass and e-wallets supporting UnionPay QR Code.
* Cash withdrawal limits have been implemented on ATMs in Mainland China in accordance with the requirements of China's State Administration of Foreign Exchange. For bankcards issued outside Mainland China, the limit is CNY 3,000 per withdrawal transaction. Some ATMs might be subject to additional withdrawal restrictions. Please refer to ATM terminals for details.
Payment Methods
Pay by UnionPay Card
Purchases made in the Chinese Mainland can be paid for in a safe and convenient way by UnionPay magnetic cards, chip cards and QuickPass (including mobile QuickPass) without the need for currency exchange.
Pay by UnionPay QR Code
Over 25 million merchants in the Chinese Mainland support UnionPay QR Code payments. Both UnionPay App and overseas digital wallets adopting UnionPay specifications (e.g., BOC Pay from Hong Kong, BC from South Korea and NETS from Singapore) are widely supported.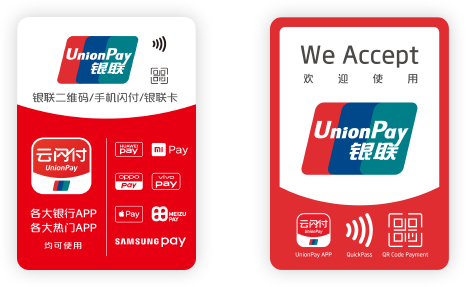 More info >>